Understanding your dogs behavior to keep your babies safe

Hey yall! It's Jess again. 
Last time I would say in my first post of the fur baby series I talked to you about keeping the peace between your fur babies and your human babies . 
In this second post, I want to talk to you not about what aggravates your pup but instead, identifying behaviors so you know when your fur baby is starting to lose their cool and we are able to keep our babies safe.
Even if you have had your fur babies for longer than you have had your human ones, you may still not recognize the behaviors of an upset dog. Your dog is more likely to get upset with your child because they are unpredictable and they don't know them well yet. They don't know what to expect. 
Let's get to it. 
Dogs do not become aggressive for no reason.
Everytime you hear a story about a dog attacking a child and the owner says "it came out of nowhere." 
More often than not, it is just children not recognizing behaviors.
If your children are old enough, it is important to teach them to recognize these so that they may keep themselves safe as well. 
The most important areas to pay attention to are the eyes, mouth, ears and the tail. 
Eyes
They say the eyes are the window to the soul. In dogs, they are a clear indication of their feelings. When the white part, or sclera of the eye is showing a lot more than usual, it is a sign that your dog is tense. 
Another thing to watch for is dilated pupils. It can point to your dog being stressed, frightened or feeling threatened.
When your dog is relaxed, the eyes are clear. They often look almond shaped and show no white. 
Mouth
Yawning or lick lipping is an early sign of stress.
A dog displaying their teeth in something called an "offensive pucker" is giving a physical warning. 
Let's be clear that teeth don't always mean aggression. It is important to consider the whole body. 
A dog that is scared or tense will keep their mouth closed and pull their lips back in a move called "long lip."
Drooling when no food is present could also be a sign of fear or stress.
A relaxed dog will often have their mouths open and be panting. They might even have their mouths turned slightly upward and may even look like they are smiling. 
Ears
Some dogs have super floppy ears that could make it harder to identify certain feelings in your dog but you can always look at the base of the ears!
A relaxed dog has their ears to the side or slightly back. 
Ears that are pointing all the way back almost tucked would be indicative of fear.
An excited dog would point the ears more forward and most likely towards the thing/person they are interested in.
Tail
Like the ears, the base is one of the most important areas of a dogs tail. The other important factor to consider is how the tail is moving. 
When your dog is relaxed, they hold their tail in a neutral manner usually at or below the spine. This is usually accompanied by loose side to side movement. 
An excited dog raises their tail above the spine. This is usually accompanied with short and fast side to side movement. 
However, a dog that is experiencing fear will tuck their tail between their legs or they may wag it very stiffly. 
These are just a few of the factors we should consider when trying to determine your dog's feelings. Understanding your dog could be the difference between violence and kindness. 
When we notice our dogs are overwhelmed, that is a good time to give them their space and ensure that our children are not in any danger. 
It is important to note that there are a lot more factors that can be seen before a fur baby attacks. 
We must pay attention to their whole bodies in order to understand them. 
More importantly, like humans, all dogs are different and only you know your dog and only you can truly determine when your child is in danger. 
Dogs and babies are the greatest of friends but keeping them all happy and safe is all we want!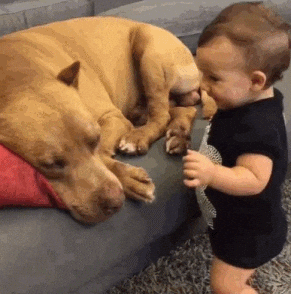 Don't forget to check back for the third post in the series!
What are some unique ways your fur babies show you they are upset?
What are some other behaviors you know of that can indicate a dog's feelings?
More importantly, show us pictures of your babies and fur babies together!