Hey y'all. It's Jess. I am going to bring you a series to help how you can "green" different parts of your home. 
My family has been on a journey to zero waste for a while now making small, manageable changes as often as we can. We figured out that the best way to do this would be to take it room by room. 
We started with our kitchen. 
There are countless ways to make your kitchen more eco-friendly. I'm going to give you some quick ideas to get you started.
1. Reusable sponge or Unsponge
This is an easy and inexpensive change you can make. 
There are so many options on Amazon and Etsy you can quickly search and decide which one works best for you. 
I have a silicone one and a fabric washable one and find that I much prefer the washable one. My daughter loves the feel of the silicone one when she "helps" me wash dishes so it was a win-win and I no longer deal with stinky sponges that need to be tossed every few months.
If buying a reusable option isn't in your budget, do not worry! There are plenty of ways to DIY one (diy-zero-waste-kitchen-sponge) or simply use the disposable sponges you have for as long as possible by disinfecting often to keep the smells away (best-way-rid-rotten-sponge-smell). 
You can also use LilHelper's T-shirt Wipes or the Bamboo Cloth Wipes if you prefer a rag to wash dishes. These wipes have endless uses (10-uses-for-cloth-wipes)!
2. Reusable Paper Towels or Unpaper Towels
Another small but significant change is getting rid of disposable paper towels and making the change to reusable paper towels, which are made of soft fabric that feels lovely against your skin. 
There are several options on etsy or amazon for different kinds of paper towels in all different kinds of fabric. There are even options with buttons or that stick together so they feel and roll up like the paper towels we are used to!
If you prefer to use something you already have at home, check out the Lilhelper wipes linked above!
If you don't have wipes and would still like a cheaper option, you can always repurpose burp cloths or muslin blankets.
There are also ways to DIY (unpaper-towel-diy-they-are-reuseable) them!
3. Use your dishwasher
I know this one feels weird but dishwashers actually use water more efficiently. Dishwashers use 37% less water (https://www.gcec.com/content.cfm?id=2081) than washing dishes by hand. The best way to make this a "green" choice is by making sure your dishwasher is always full when you run it.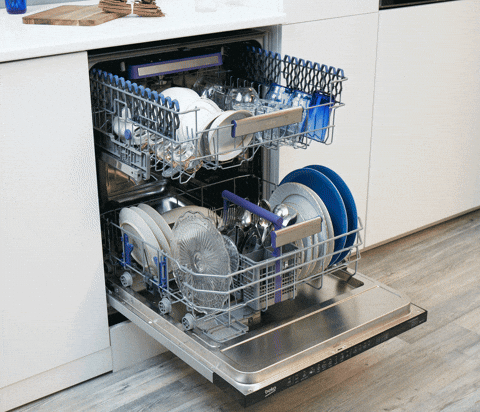 If you don't have a dishwasher or are more minimalist with the number of dishes you have, then it would probably be best to continue washing by hand.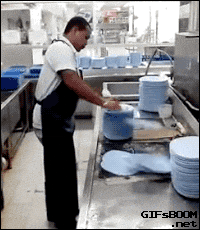 Tune in next time for another post on small, manageable changes you can make to be more "green" or eco-friendly in this series for your home!
What are some ways you have made your kitchen more green?