Hey guys! It's
Ariel

, and we need to have some real talk for a minute here.

When I was young and naive, I had this perfect fantasy of wanting to go back to work immediately after having a baby because I figured I would be 'bored' staying at home.

I have always been a go-getter and have had a hard time sitting around doing nothing, and I thought that's all being a stay at home parent was about.



When we brought my daughter home, I realized I could not have been more wrong. I was beyond exhausted and yet the happiest that I had ever been. This little human took up more of my time than I ever could have imagined, and I had absolutely no problem with that.
Turns out, there is literally no downtime when you have a baby! (And a dog, and three cats… We are insane people. I know.)

This is a photo of my daughter and I on the day that we brought her home.
While I was still pregnant, my husband and I had agreed that we would split the parent leave equally between us. Now that Dawson was here and I was unconditionally devoted to her, my return to work date was a square on the calendar that I dreaded. I tried to talk my way out of the deal I had made on more than one occasion (to no avail.)
On the day that I went back to work, my daughter was 5 months old and I would be lying if I told you that I didn't cry the entire drive. And maybe for the next couple of days after that too.
I missed her more than I could have ever imagined, and spent all day daydreaming about getting back home to her and her daddy.
Coming home became the best part of my entire day, but I very quickly I realized that I would need to figure out how to properly balance life as a working mom so I felt like I was getting as much out of every day as possible.
These are just a few changes that I have made to my daily life since returning to work that have helped me feel more successful in balancing my work and home life.
Embrace being an early bird
This is easier said than done. Especially if you have never been an early morning person. Some of us are literally zombies until noon unless we drink about 3L of coffee, am I right?!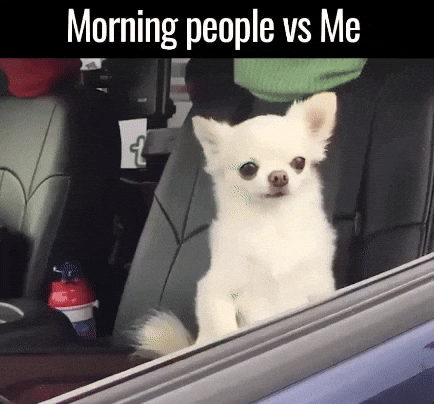 Luckily for me, I have always preferred early mornings to late nights, so this was no problem. I simply set my alarm back a bit further so I knew I would be able to get up and get ready before baby woke up for the day and that was it.
Having that bit of extra time in the morning when the house is quiet and you are responsible for no one but yourself is extremely therapeutic and a good way to start your day off in a calm, relaxing way. (Because not a single person enjoys flying out of bed and rushing through their whole morning routine because they're running late!)
Multitask like a boss
Let's just all take a minute to imagine me stirring the pot of pasta that is currently boiling while trying to keep my dog from jumping on the counter, write this blog post on my phone, and help my daughter turn the pages in her board book. And let's not forget about the load of laundry in the washer, the one in the dryer, and the dishwasher that's running! (because those all took work to get them filled and going!)
I hope you're laughing at this insane mental image, because honestly, that's all I could do when I took a moment to realize what all I was juggling at once. I have always been someone that could multitask well, but doing it with a baby is a whole different ball game.
I feel like a ninja warrior most of the time! And you will too. Multitasking is going to be your best friend. Whether it's taking the time to read your favourite book while pumping breast milk, or trying to feed your baby while vacuuming the house, you're going to become a pro at it without much effort on your part, and simply because of necessity.
Embrace the change.
It will make a world of a difference in how accomplished you feel and how easy you find getting through the simple tasks of every day.
Babywearing is another great way to help the multitasking seem a bit easier! That way, you can make sure baby is safe at all times but also get the mom things done! Erin wrote an amazing article on babywearing, so make sure you check it out here.
Be present
When you're home with your family, putting away your phone in favour of sitting on the floor and playing with your little one seems like a no brainer.
For me, I work a part time job managing social media and that requires me to spend a LOT of time looking at my phone and being on the computer. It takes a conscious effort for me to remember to leave it alone so that I am spending as much time as possible with my daughter.

Dawson and I at a sporting event. Priceless memories!
I never want to miss those first few steps (which are so close we can almost see them!), or those cheeky smiles when she goes for something she knows that she isn't allowed to have.
Mealtimes are my personal favourites now that she is at an age where feeding herself (I mean, finger painting with her avocado) is so much fun! These are memories I always want to have, and we can't experience as parents from behind the screen of a phone.
This also goes for spending time with your partner! Just because babe has gone to bed doesn't mean that there isn't still someone else who has missed you all day, and wants to spend as much time with you as possible.
For us, sitting down together and watching our favourite shows (our current favourites are Game of Throne and Big Brother!) is usually our go-to. Sometimes we whip out a board game after Dawson has gone to bed and have a friendly game. Whatever you do will be unique and specific to you and your partner, but giving them that extra bit of your time will help them feel as connected to you as they were pre-crazy baby life.
Leave the negativity at the door
As someone who works a full time retail job, let me tell you, I see all kinds of every sort of situation possible. Sometimes things happen that leave me feeling frustrated or upset, and one of the most important things that I have learned is to leave any bad day that I had at work at the door when I leave.
This change in the way that I handle frustrating situations has made a huge difference in my ability to enjoy my evenings with my family than I used to.
As recently as a year ago, I used to let one bad situation ruin my entire day. I would replay it over and over in my head, obsessing over whether I had said the right thing or handled it in the best way possible. (I'm positive there are some of you out there that can relate!)
Now, I let the situation happen, do the best that I can to overcome it and I tell myself that I did the best that I could do so that when it's time to punch that clock and head home for the day, I leave work behind and let my entire world be consumed by my little one. It's so freeing!
Schedule your day…
As someone who is a total A-type personality, this speaks to my soul. We schedule specific times when things will happen throughout the day so that I can follow that schedule and make sure I'm doing what I can.
An example of that schedule would be;
5:00pm – Dinner
7:00pm – Bath time
8:00pm – Bedtime
This is just a small snippet of what my evenings typically look like.
Now obviously dinner does not take 2 hours, but 5:00pm is the time that I aim to have dinner ready to go, and then we have 2 hours for whatever we want to do as a family before it's time to have a bath. This helps me feel extremely accomplished throughout particularly rough days too, and helps me remember what I have actually managed to get through.
… But also be flexible
Lesson #1 about having kids is sometimes, your plan will not go the way that you want it to.
Sometimes you will sleep through your early alarm and be rushing to get out the door. Sometimes dinner won't be ready until 7:00pm and you'll skip bath time because it's better to put her to bed on time so she isn't grumpy.
Say it with me… EVERYTHING WILL BE OKAY!
No, you will not mess up your kids just because you had an off day all around! That's okay!
They will not remember what happened tonight tomorrow and honestly, as parents, we need to learn to let it go too.
Life is not perfect, even though we all know we want it to be. Embrace every part of what life has to offer, and don't overthink it too much. Once you learn to let go, happiness is easier to let in.
Hopefully some of these little tips from my own personal experience can help you when it comes to transitioning into the working parent phase of your life.
On behalf of all of us here at Lil Helper, I want to wish you all the best in this next step, and let you know that we are all rooting for you!
You can do this!
Have any other tips or tricks that weren't mentioned in this blog post? Share them in the comments down below!