Hi everyone! Tamara here.  Jess' recent post about how to pick up Mom friends got me reflecting on my own experience with finding a Mom Tribe.

I had no idea that enrolling in a prenatal class would be the single most important thing I did for myself, socially, as a new mother. Nor did I even realize at the time how valuable Mom-friends would be to me in that first crazy year of parenthood.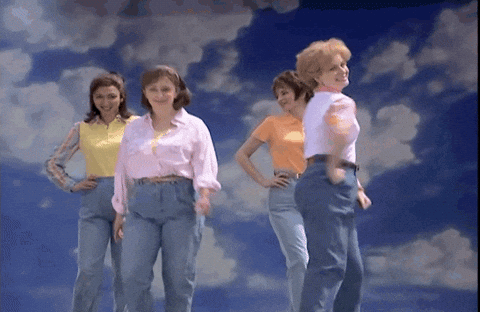 I was 32 years old when I got pregnant with my first baby. From Vancouver BC originally, I had relocated to a small, rural community 3 years prior. In many ways I was still finding my footing in my new town.  
My 'City Girl' ways seemed to set me apart from so many of the people I met, and despite my best efforts I struggled to make friends.

I had read so many articles online about how lonely & isolating mothering can be. Without much of a social circle established prior to getting pregnant, I worried about what my lack of a social life would mean for myself as a new mother.
Like many first time parents, my husband and I enrolled in a Prenatal Class, hoping to gather as much information about pregnancy and childbirth as possible.
The first class was introductory and just as awkward as any "first day at school". My classmates and I sat around uncomfortably, sizing each other up, taking stock of who was due when, and whether they were having a boy or a girl.
The class ran for 8 weeks. I thought that I would dislike giving up 3 hours of my evening once a week, but instead found myself eagerly looking forward to each class. The subject matter was helpful, but the real value was in the connection with the other parents that my husband and I were quickly forming.
On final last class, I offered to put together a Facebook group so that we could all stay in touch. I passed around a contact sheet and strong-armed every single couple to put down their information.
We ended up having our babies all within two months of each other. There were four boys and five girls; all born healthy.
Within my son's first three weeks of life we had our first 'playdate' with a few of the other Moms. We sat in a circle in one of the Mom's living room, and passed around babies around like a game of "hot potato"; coo'ing and admiring how tiny & perfect each one was.
After all the babies were born, we had a pre-natal class reunion. Nearly every couple from the class attended with their adorable babes.
Here are the babies arranged in birth order– left to right, oldest to youngest.
Of the nine original Moms, I would say that I have become "close" with four. Over the next year those 4 mamas and I got together for coffee dates & walks, shared carriers, strollers, breastfeeding tips, advice and endless empathy.
When we had questions we would post to our private facebook group, or send out group text messages. When someone needed a last minute babysitter, we called on each other. When someone was up all night long with a teething baby, we called on each other. If we needed advice on breastfeeding or babywearing, we called on each other.
When our babies turned one year old, I organized a joint birthday party. My classmates arrived with their babies-now-toddlers on their hips and my heart swelled with happiness. We looked like seasoned parents now, relaxing and chatting easily while our little ones crawled around at our feet.
As we stood around a giant birthday cake and sang "Happy Birthday" incorporating 9 different baby's names into the song, it dawned on me that I had something extremely rare in this day in age; I had a full-fledged Mom Tribe.
Seven of the original 9 babies at our 1-year birthday reunion.
I will forever be grateful for that prenatal class and the wonderful human beings it introduced me to.
These are women who I likely would never have met otherwise, but who have become some of my closest and dearest mom-friends.
I would have never thought that having a child would enrich my social life so wonderfully, but it truly has and I am so thankful! Whenever my newly-pregnant friends ask me for advice on finding their own Mom Tribe, I say two things:
Go where the other parents are

.
If you are pregnant, enroll in prenatal, breastfeeding, or infant first-aid courses.
Contact your local hospital, or Midwifery Clinic and ask about any classes or groups that they may have.

Also, check out the website of your local Community Colleges. Many of them offer prenatal & parenting classes, as well.


Be willing to take initiative.
It is not enough to be a body in the room. You must attend with the expressed intention of connecting with other parents. Don't be shy! Get people's contact information and be willing to organize the first get-together. Finding a Mom Tribe doesn't happen without someone being willing to stick their neck out a bit.

Did you take a Prenatal Class? How did it go for you?
If you have a Mom Tribe, tell us how you met them!